NWAA Labs,Inc.
NWAA Labs is an independent laboratory providing uniform loudspeaker testing and material testing to the audio, acoustics, and construction industries. NWAA Labs has the unique ability to do MACH™ Testing of speakers and diffusers at a high resolution and extended low frequency testing of acoustical materials to meet or exceed ISO and ASTM standards.
Based just southwest of Seattle Washington, the laboratory facilities include the two largest reverberation chambers in the world used for transmission loss and absorption testing and a huge, free field, speaker and diffuser measurement facility.The largest reverberation chamber is 738 cubic meters in size and can accurately measure frequencies down to 25Hz. It is also the second quietest room in the world with a background level of -15 dBA. This room is used for absorption coefficient, transmission loss and sound power testing. Our second reverberation room is 667 cubic meters in size and is the source room for transmission loss measurements. As a source room it provides a broadband noise source of 142 dB from 31 Hz to 16kHz. Our location offers our clients easy access for cost-effective shipping via ground, air or sea.
Led by former NASA scientist, Ron Sauro, the NWAA Labs team combines the talents of well respected researchers, acousticians and consultants to provide unmatched state-of-the-art testing and product development support. Well known in the audio and acoustics industry as a consultant and a member of the EASE and EASERA computer software development team, Ron brings over 37 years of field experience to the company.
Since the lab has opened, NWAA Labs has labored to move the science of acoustic testing forward. Because of this commitment to science, we are active participants in the ASTM, ISO and AES standards development process and have introduced several changes to existing standards and additional new standards to our industry.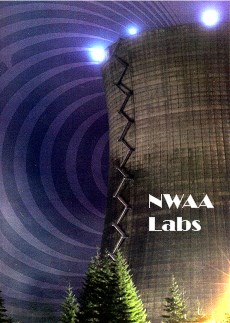 NWAA Acoustical Laboratories
We are scheduling tests for the following:
AES56 Speaker Directivity Balloons
GLL Diffusion Data
C-423/ISO354 Absorption
E-90/ISO-140 Sound Transmission Loss
ANSI 12.51/ ISO 3741 Sound Power Levels
To see pictures of how NWAA Labs was constructed, Click Here!